Posted on
HLTAID003 Provide First Aid –

Level II First Aid Course
ONE DAY EXPRESS COURSES ●

TWO DAY CORPORATE COURSES

●

GROUP BOOKINGS WITH FLEXIBLE DELIVERY
Knowing what to do in the first few minutes following an accident can be the difference between life and death. This nationally accredited certificate provides you with the knowledge, skills and confidence to provide initial emergency care in accordance with approved first aid principles. Our course incorporates a number of realistic simulations aimed to prepare you to deal with first aid situations in a practical way.
This course will also allow you to provide basic first aid response in emergency life support until emergency assistance arrives.
The HLTAID003 course is considered the industry standard in first aid training and is suitable for anybody requiring a Level II First Aid Certificate for the workplace, home, sport and recreational use and is acknowledged Australia-wide.
UNITS OF COMPETENCY (COURSE SUBJECTS)
The following Nationally Accredited Unit of Competence is included in this Certificate:
ENROLMENT OPTIONS



The following enrolment options are available to you when it comes to participating in this wonderful accredited courses. If you are unsure which option may be best for you then please contact our office. We are always happy to help.
STUDENT SUPPORT



Student support is a corner stone of our organisation. Regardless if you are a full time, part time or blended delivery student, you will always have access to your course trainers or support officers. Whether you wish to engage our services on a daily basis, once a week or in blocks is up to you. We have scheduled student support times as well as an ability to generate a support service at any time via our website. Support for this qualification is available in the following formats and times:
Phone Support available six days a week, 9.00am to 6.30pm (Monday to Thursday), 9.00 to 5.00pm (Friday), 8.30am to 12.30pm (Saturday)
Email Support available six days a week, 9.00am to 6.30pm (Monday to Thursday), 9.00 to 5.00pm (Friday), 8.30am to 12.30pm (Saturday)*
Live online video support, available on request six days a week
Face to Face support, available on the day of your practical sessions, Friday's and on request.
*NOTE:Responses to email support requests will occur during during the times stated above, however responses may be delayed by up to 24 hours at times. If your support enquiry is urgent we recommend calling us.
BEFORE YOU

ENROL
Before you enrol into this course you may wish to download a copy of our Information Handbook. The information found in this document will highlight any expectations we will have from you and provide you with a clear understanding of your required commitment to this course. This document can be obtained through the following link: Student Administration. Your enrolment form will also contain terms and conditions that are relevant to this course. You can review these terms and conditions prior to enrolling by clicking here: Enrolment Terms and Conditions
VICTORIAN COURSE FEES FOR 2018
HOW TO ENROL INTO THIS COURSE
If you would like to enrol into this course you must complete the enrolment process below. To enrol, simply click the 'Enrol Now' button that correspondes with the course you wish to enrol in.
To get a PDF version of the enrolment form, visit our Student Administraion webpage, alternativley call us and speak with our office administration staff during business hours who will be happy to walk you through the process.
OUR ENROLMENT PROCESS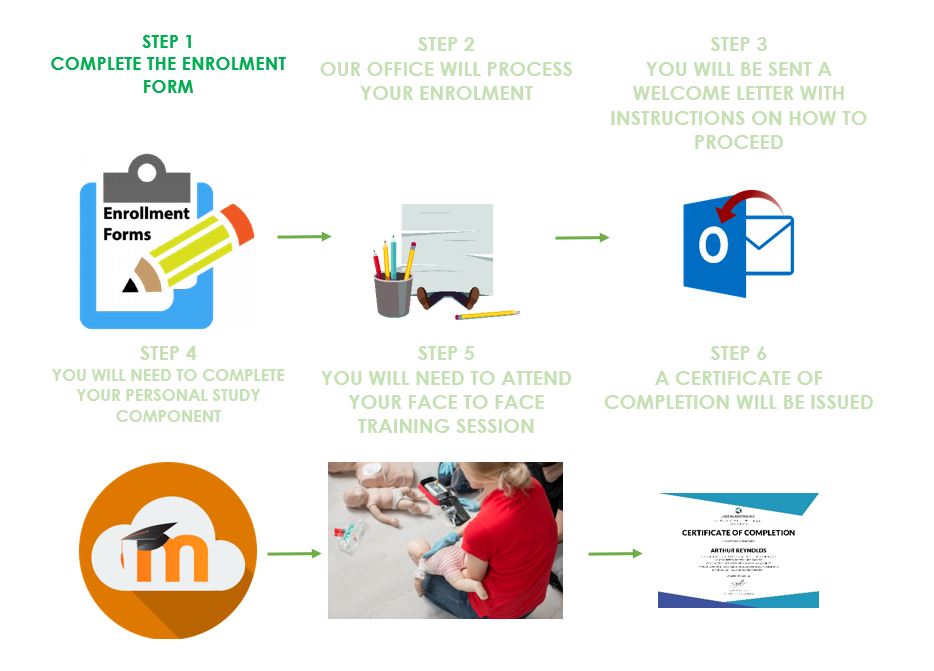 Once you have completed our enrolment form and it has been submitted to our office, the following process is applied:
You will receive a confirmation text message (SMS) from our office informing you that we have received your enrolment form. This text message may take between 1 to 12 hours to arrive as this message is only sent once our team have your enrolment form in their hands.
You will receive a few emails from our administration team. These emails may include:

Welcome letter which will contain information and instructions on how to access your course along with your trainer's contact details and location and time of your scheduled training.
A TAX invoice/receipt
An email containing information on your USI
NOTE: Emails may take between 1 to 24 hours to arrive from the confirmation SMS, please check your spam or junk email folders

You will then receive a final text message (SMS) from our office which will inform you that your enrolment has been processed. This text message will also list the emails we have sent you.
NOTE: IF YOU HAVE NOT RECEIVED THE EMAILS MENTIONED IN YOUR FINAL TEXT MESSAGE YOU MUST CONTACT OUR OFFICE.
VALUE ADDED ITEMS



Once you have successfully completed this course you will receive the following items as part of your course:
We will also add you to our register to receive FREE reminders that your CPR or First Aid certificates are about to expiry. This is a free service offered by Intelligent Training Solutions to assist you to stay up-to-date and current with your first aid certification.
TESTIMONIALS, GOOGLE REVIEWS AND RATINGS
OUR TRAINING VENUE LOCATIONS
Intelligent Training Solutions is can deliver this course at your workplace, training venue or community function center. Our public first aid courses are also offered at the following training venues around Victoria.
Attwood, Victoria (Near Tullamarine)
Preston, Victoria
Reservoir, Victoria
Riddells Creek, Victoria
Gisborne, Victoria
Romsey, Victoria
Lancefield, Victoria
Epping, Victoria
Kyneton, Victoria
Sunbury, Victoria
Melbourne CBD and many, many more places.
COURSE ELIGIBILITY CRITERIA



This unit of competence does not have any required eligibility criteria as stated by the HLTAID003 Unit of Competence located on www.training.gov.au
COURSE ENTRY

RECOMMENDATIONS
This is an open certificate. We encourage everybody to undertake this certificate in order to learn these life saving skills. Participants should have basic Language, Literacy and Numeracy skills and have the physical ability to manage CPR and other First Aid situations.
Participants must be 15 years or older.
ASSESSMENT METHODS



This unit of competence will be assessed. The assessment will be based on the principles of competency-based training (CBT). A successful outcome for this certificate will be determined by a range of different methods including:
Either on online or written submission of work
Observation of simulated and practical activities
Structured questioning or discussions.
TOPICS COVERED IN THIS COURSE



How to properly assess an emergency situation
DRSABCD
CPR techniques on adults, children and infants
Using AED's on adults and children
Anaphylaxis, asthma, seizures, bites, stings
Fractures, head injuries, spinal injuries
Managing exposure to extreme temperatures
Legal responsibilities of a first-aider and much more!
Even though first aid is a serious topic our courses are fun, practical and engaging and simulate real worlds scenarios. They contain a lot of valuable video content to ensure participants remain engaged rather than listening to war stores of a trainers past experiences. Unlike many other first aid providers all our trainers are qualified as division 1 nurses or emergency service workers and paramedics. Our standards are high to ensure that the information you receive during this course is current and practical and not just taught by a first aider. We believe in providing you with highly qualified trainers that have real industry experience that is current.
CONTINUING PROFESSIONAL DEVELOPMENT (CPD)
T
he RACGP (The Royal Australian College of General Practitioners) standards recommend undertaking a refresher in CPR competence every 3 years however the ARC (The Australian Resuscitation Council) guidelines recommend that updates should be completed at least annually (www.resus.org.au). In support of the RACGP Standards and the latest evidence, it is a requirement of the QI&CPD Program that GPs maintain basic life support skills through the completion of a CPR course that meets the ARC guidelines.
The CPR component of this course has been approved by the RACGP and QI&CPD Program. GPs simply submit a copy of their CPR Statement of Attainment issued by ITS Pty Ltd to the relevant State QI&CPD unit for CPD point allocation.
All nurses and midwives must meet the continuing professional development (CPD) standards. Nurses on the nurses' register will need to participate in at least 20 hours of continuing nursing professional development per year. Registered nurses and midwives who hold scheduled medicines endorsements or endorsements as nurse or midwife practitioners under the National Law must complete at least 10 hours per year in education. One hour of active learning will equal one hour of CPD. The CPD must be relevant to the nurse or midwife's context of practice.
COURSE, EMPLOYMENT AND SOCIAL PATHWAYS
Participants wishing to continue with study after achieving the HLTAID003 Provide First Aid certificate can do so by undertaking the HLTAID006 Provide Advanced First Aid Certificate. This course is also suitable for those individuals entering employment or a community position whereby an individual may be required to provide a first aid response.
RECOGNITION OF PRIOR LEARNING (RPL)
Recognition of prior learning for this certificate will be offered by way of assessment only. Applicants will need to undertake both the theory and practical assessment tasks in order to be deemed competent in this course. Standard fees will apply. Further information is available by contacting our office.
ADDITIONAL ENROLMENT TERMS AND CONDITIONS
The training offered by ITS provides the skills and knowledge to properly administer first aid but does not constitute a medical qualification. ITS accepts no responsibility for the subsequent actions of participants.
First Aid training involves moderate physical activity including kneeling and bending. ITS does not accept any responsibility for any harm suffered by you as a result of your participation in the course. If you have any special needs (including those in relation to Language, Literacy or Numeracy) a relevant disability or condition, or any other concerns you should raise these prior to enrolment.
STUDENT RIGHTS



You have the right to complain about the performance of our administration services, trainers or assessors
You have the right to appeal the assessment decision made by our trainers. Please refer to the ITS appeals policy located in the information handbook.
You can view our Complaints and Appeals policies by downloading our Information Handbook from this website.
RESOURCES AND TEXTBOOKS



Intelligent Training Solutions will provide you with all the required resources and books on the day of your course. You are welcome to download a free copy of the HLTAID003 Learner Guide and Personal Study Component or purchase a hard copy for $26.95.
REQUIRED EQUIPMENT



It is recommended that you provide the following:
Working pens and highlighters for use on the course.
A4 lined workbooks for taking notes (minimum 150 pages)
An active and working email account
Photo ID to confirm your identity
UPON SUCCESSFUL COMPLETION OF THIS COURSE
Once you have successfully completed this course you will be issued with a Record of Results and a Certificate of Completion within 30 days of your final successful assessment.
PLEASE NOTE: Intelligent Training Solutions aims to release Certificates within 2 to 7 days from the successful completion of your course, however, please note that failing to provide us with your USI, failing to complete your personal study component or paying your invoice late will delay your Certificate. If you require your certificate urgently for any reason please inform your trainer so that they can make the required arrangements for you.
MEDIA, NEWS AND VIDEOS
This page was last updated on Friday 24th August 2018 @ 12.33am