Posted on
RIIWHS202E ENTER AND WORK IN CONFINED SPACES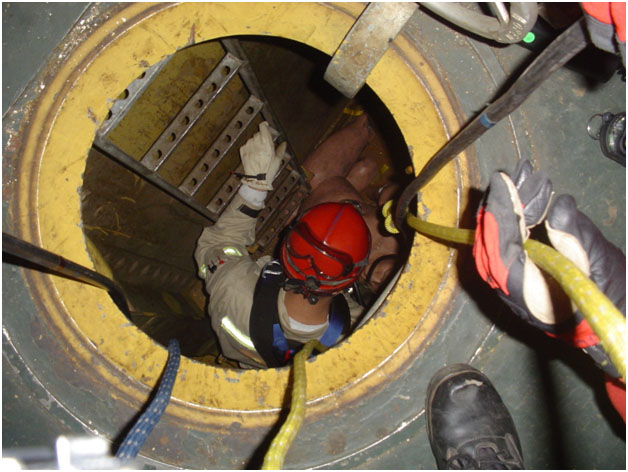 Our course in Confined Spaces will provide you with the skills and knowledge required to conduct a quality risk assessment of the working environment. Our confined spaces course also provides you or your staff with practical experience and knowledge on how to safely enter confined spaces to conduct work-related activities.
The nationally recognised training course has been designed for people who work in or around confined spaces. Our course will be tailored to suit the practical scenarios relevant to your company's confined space operations. Our confined spaces training course will teach you how to work in and around confined spaces in accordance with OHS regulations and Australian Standard 2865-2009 (Confined Spaces – Code of Practice February 2014 v2)
Our confined spaces training course is designed to teach learners how to determine what hazards may exist within the confined space, put in place control measures to make the work safer and carry out the work in accordance with confined space regulations and standards.
During the confined space training course we will cover both the theory and practical components of confined spaces. Our confined spaces training is only conducted by experienced emergency services and industry personnel who are fully competent in the usage of confined space equipment and in undertaking confined space rescues. Our confined space trainers have both the qualifications and current relative industry experience to walk you through the requirements of entering and working in confined spaces.
Intelligent Training Solutions teaches on-site confined space training courses throughout Victoria. In the event that your site is not suitable for training Intelligent Training Solutions will utilise our mobile confined spaces trailer that has been purpose built to simulate a number of confined spaces scenarios. Intelligent Training Solutions will tailor the practical training scenarios to suit your company's confined space requirements. Prior to the commencement of your confined spaces training we will normally request a copy of your confined space entry permits and working in confined space safety procedures, policies and any other relevant workplace documentation used by your company in order to customise and tailor our confined space training directly to your requirements.
The following Nationally Accredited Unit of Competence is included in this Certificate:
| | |
| --- | --- |
| Core Unit | Unit Name |
| RIIWHS202E | Enter and Work in Confined Spaces |
Course Pathways
You will be provided with advice on additional training options throughout the delivery of this course. This unit is generally required by learners who are entering the industry or are required to undergo refresher confined spaces training in accordance with company requirements or WorkSafe's compliance code for confined spaces which states that retaining or refresher training should be provided as appropriate for a particular workplace.
Prior to Enrolling
Prior to enrolling into this course you may wish to download a copy of the ITS Information Handbook together with the RIIWHS202D Unit Outline document. These documents will highlight any expectations we will have from you and provide you with a clear understanding of your required commitment to this course including information on Intelligent Training Solutions policies and procedures, assessment appeals policy and much more. This document can be obtained by contacting our office or is available for download from the right hand side menu bar located within this web page.
Items you will receive on this course
Once you have successfully completed this course you will receive the following items:
A Certificate and Transcript of Results containing:

RIIWHS202E Enter and Work in Confined Spaces

A tagging and locking device
Please note: Once you have satisfied all the requirements of this course and made payment your certificate will be sent to you within 12 to 48 hours. If you require your certificate urgently for any reason please inform your trainer so that they can make the required arrangements for you.
2020 Course Fees & Enrolment Options
How to Enrol
Online Options for this course:  PDF Download | In Person.
Applicants wishing to enrol into this course must complete the Enrolment Form in person or by downloading and completing the PDF version. To get a PDF copy of the enrolment form simply click the 'ITS Enrolment Form' link located in the right hand side menu bar, alternatively you may wish to speak with one of our team during business hours.
This Course Covers
Overview of Confined Spaces
Different type of confined spaces
Confined space hazards
Unsafe oxygen levels
Fire and explosions
Atmospheric hazards and the effects on the respiratory system
Workplace safety and OHS / WHS health and safety
Enter permits
Safe work method statements
Duty of Care
Safety data sheets
Work permits
Emergency response plan / protection plan
Stand-by persons
Isolating the confined space
Equipment and resources
Communication on a worksite
Fire fighting equipment
PPE, respiratory equipment and self-contained breathing apparatus
Atmospheric testing and monitoring equipment
Workplace Reporting and much, much more!
Even though confined space training is a serious topic our courses are fun, practical and engaging. They contain a lot of valuable content to ensure participants remain engaged rather than listening to stories of a trainers past experiences. Our trainer is emergency services qualified and is an industrial expert within confined spaces. Our standards are high to ensure that the information you receive during this course is current and practical and not just taught by a confined space trainer. We believe in providing you with highly qualified trainer that have real industry experience that is current.
Student Support
Intelligent Training Solutions prides itself on its customer service and on the support it provides to its students. This course is supported via the following ways:
Face to Face by appointment
Telephone – we can call you
Webinar – Video or Audio over computer
Email
Once you enrol into any of our courses you will be emailed your trainers contact details. If you require any assistance feel free to contact your trainer or our office Monday to Friday, 8.30am to 5.00pm (after hours support is also available) or Saturday's, 8.30am to 12.30pm. We are here to help!
Training Venue
Intelligent Training Solutions is able to deliver this course at your workplace, training venue or community function center. If you would like to come to us we can see you at our East Keilor training venue. Contact Us for more information.
Group Bookings
If you have a group of people that would like to enrol into this course and you would like us to deliver this course in your area please let us know and we will make all the arrangements. We specialise in corporate bookings and are flexible and dynamic to accommodate most organisational requirements.
Enquire Now for Group or Company Bookings
Course Entry Recommendations
It is recommended that you are either employed or seeking employment within a job role that requires you to be certified in confined space. Participants should have basic Language, Literacy and Numeracy skills and have the physical ability to enter and work within confined spaces. This unit does not mandate any entry requirements however industry consultation together with the RII companion volumes for this unit recommend that participants LLN ACSF performance indicators should be at a level 2 for this course. If you are unsure about your LLN level you can assess yourself for FREE and anonymously using the SafeWork Resources LLN indicator tool by clicking: http://lln.safework.com.au/
Assessment Methods
This unit of competence will be assessed. The assessment will be based on the principles of CBT (competency-based training). A successful outcome for this certificate will be determined by a range of different methods including written submission of work, observation of simulated and practical activities, structured questioning or discussions.
Recognition of Prior Learning (RPL)
Learners are able to have their competency from prior learning and work experiences recognised in this unit through the following requirements:
RPL will be offered to learners by way of an assessment only pathway as the requirements for this unit are subject to change in line with OHS confined spaces code of practice or workplace requirements. Please note that the intention of this unit of competence is to gain or update the skills and knowledge required in confined spaces. It has been determined through our industry consultation that RPL will only occur through a full assessment pathway.
Terms and Conditions
The training offered by ITS provides the skills and knowledge to safety enter and work in confined spaces. ITS accepts no responsibility for the subsequent actions of participants.
Confined Spaces training involves moderate physical activity including kneeling and bending. ITS does not accept any responsibility for any harm suffered by you as a result of your participation in the course. If you have any special needs (including those in relation to Language, Literacy or Numeracy) a relevant disability or condition, or any other concerns you should raise these prior to enrolment.
Refunds and Cancellation Policy
Please note we are unable to refund money to you if:
You change your mind for to any reason within 7 days prior to course commencement. (NOTE: Please make sure that you wish to undertake confined spaces training as ITS does not have a cooling off period and no money will be refunded within 7 days of commencement.)
If you are required to leave class and are unable to return within a timely manner.
Additional information on the ITS refund policy can be found on the ITS RII Enrolment Form or the Information Handbook.
Student Rights
You have the right to complain about the performance of our administration services, trainers or assessors
You have the right to appeal the assessment decision made by our trainers. Please refer to the ITS appeals policy located in the information handbook or available on this website.
You can view our Complaints and Appeals policies by downloading them from our website, located in the right hand menu bar on this webpage.
Once you have Enrolled
Your enrolment into this course will be confirmed via email and text message (SMS). You will also receive the contact details of your trainer via email should you require any assistance or support throughout this course. Once your enrolment has been processed by ITS you will receive a 'welcome' email.
Required Resources and Book List
ITS will provide you with all the required resources and books on the day of your course. When you enrol into this course you will receive:
RIIWHS202E Enter and Work in Confined Spaces Learner Guide
Required Equipment (Student)
It is recommended that you provide the following:
Working pens and highlighters for use on the course.
A4 lined workbooks for taking notes (minimum 150 pages)
Suitable clothing and shoes in order to participate in confined spaces training activities.
Photo ID to confirm your identity
Upon Successful Completion of this course
Upon the successful completion of this accredited certificate, you will receive a Transcript of Results and Certificate via email.