HLTAID011 PROVIDE FIRST AID (*was HLTAID003)
COVID-19 FIRST-AID UPDATE
Practical hands-on skills should NOT be taught ONLINE
With the current COVID-19 pandemic here in Australia, we have implemented new COVID-19 procedures and allowed for reasonable adjustment within the delivery and assessment of our course materials that are in line with the Department of Education, Skills and Employment (DESE), the Australian Industry Skills Council (AISC), the Australian Skills Quality Authority (ASQA), the Australian Resuscitation Council guidelines and the Australian Children's Education & Care Authority (ACECQA) requirements.
For more information on our COVID-19 procedures click here.
For more information on what reasonable adjustments are being implemented, please click here.
IMPORTANT NOTICE
The practical elements of first aid MUST continue to be taught by all training providers. At the time of this notification, No Registered Training Provider (RTO) had been exempt from their obligation to meet the Performance Evidence (Practical hands-on components) of any first aid course in lieu of an online course. First aid should never be taught 100% online. For more information…click here.
DELIVERY OPTIONS:  (BLENDED DELIVERY – PERSONAL STUDY REQUIRED) |  (FACE TO FACE – NO PERSONAL STUDY) |  (ONSITE / WORKPLACE DELIVERY)
COURSE OPTIONS: 1 DAY (BLENDED COURSE) | 2 DAY (FACE 2 FACE)
This course is suitable for those in workplaces and members of the public who would like a comprehensive first aid course. This course was previously known as Senior First Aid, Workplace Level 2 and Apply First Aid.
Knowing what to do in the first few minutes following an accident can be the difference between life and death. This nationally accredited certificate provides you with practical skills and knowledge combined with the confidence to provide initial emergency care in accordance with approved first aid principles that only a course with a comprehensive face to face component can offer.
Our course incorporates a number of realistic classroom simulations aimed at preparing you to deal with first aid situations with a practical real-world approach to first aid. Our most popular course by far is our blended delivery course which combines online self-paced learning with face to face classroom training.
Our blended delivery course ensures that all the practical hands-on elements of first aid, together with all the critical life-saving components of first aid such as using an AED, performing CPR or dealing with serious injuries, are taught by qualified trainers in a face to face environment. As for the non-life-threatening elements of the course, this material is taught to you via our student portal using a combination of presentations and video-enhanced materials. 
The HLTAID011 Provide First Aid course is considered the industry standard in first aid training and is suitable for anybody requiring a Level II or workplace first aid certificate for use in the workplace, home and sport or recreational groups. This certification is nationally recognised and acknowledged throughout Australia.
COURSE SUBJECTS (UNITS OF COMPETENCY)
On successful completion of this course, you will be issued a Statement of Attainment. The following nationally accredited unit of competency are included in this course:
ENROLMENT | DELIVERY OPTIONS



The following enrolment options are available to you when it comes to participating in this wonderful accredited courses. If you are unsure which option may be best for you then please contact our office. We are always happy to help.
STUDENT SUPPORT



Student support is a cornerstone of our organisation. Regardless if you are a full time, part-time or blended delivery student, you will always have access to your course trainers or support officers. Whether you wish to engage our services on a daily basis, once a week or in blocks is up to you. We have scheduled student support times as well as an ability to generate a support service at any time via our website. Support for this qualification is available in the following formats and times:
| TYPE OF SUPPORT AVAILABLE | DAYS AVAILABLE | TIMES AVAILABLE |
| --- | --- | --- |
| PHONE SUPPORT | MON, TUE, WED, THU, FRI | 8.45am to 4.45pm |
| EMAIL SUPPORT | MON, TUE, WED, THU, FRI | 8.45am to 4.45pm |
| LIVE VIDEO CHAT | MON, TUE, WED, THU, FRI | 8.45am to 4.45pm |
| FACE TO FACE | MON, TUE, WED, THU, FRI | 8.45am to 4.45pm |
| AFTER HOURS | MON, TUE, WED, THU, FRI, SAT | BY APPOINTMENT |
*NOTE: Responses to email support requests will occur during the times stated above, however, responses may be delayed up to 24 hours. If your support enquiry is urgent we recommend calling us.
BEFORE YOU ENROL
Before you enrol into this course you may wish to check out our student administration portal or the terms and conditions you are bound by when you enrol into one of our courses. The information found within these two areas will highlight any expectations we will have from you and provide you with a clear understanding of your required commitment to your enrolled course. To access the student administration portal, simply click here: Student Administration. At access your enrolment forms terms and conditions relevant to this course, simply click here: Enrolment Terms and Conditions
VICTORIAN COURSE FEES FOR 2021
HOW TO ENROL INTO THIS COURSE
If you would like to enrol into this course you must complete a I.T.S enrolment form. To enrol, simply search through the table below. All our public courses for the 2021 year are listed in month order. Once you have located the month and location that suits you, simply click the 'Enrol Now' button that corresponds with the course you wish to enrol in.
If you are unable to complete our enrolment form online, you can request a PDF enrolment form to be sent to your email address by contacting our office, alternatively, you can also visit us at our training centre or call us and speak with our administration staff during business hours. One of our friendly staff will be happy to walk you through the online enrolment process.
OUR ENROLMENT PROCESS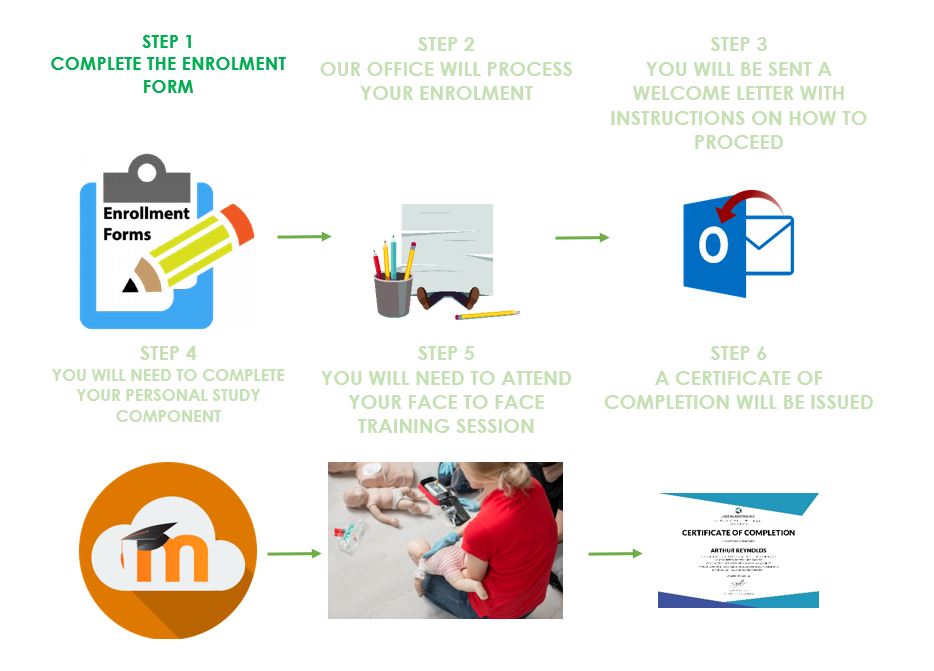 Once you have completed your enrolment form and it has been successfully submitted and received by our office, the following process is applied:
STEP 1)
You will receive a confirmation text message (SMS) from our office informing you that we have received your enrolment form.
NOTE: This text message may take between 1 to 12 hours to arrive as this message is only sent once our team have your enrolment form in their hands.
STEP 2)
During this phase in our enrolment process, you will receive anywhere between two or three emails from our enrolment (administration) team. These emails may include:
A welcome letter which contains information and instructions on how to access your course, together with your trainer's contact details, the location your training will take place, the time your training will commence and any other important information that is relevant to your course.

A tax invoice and/or receipt; and finally


An email containing information on your USI
NOTE: It may take anywhere between 1 – 24 hours for our emails to arrive in your inbox during this stage. Please remember to check the spam or junk folders.

STEP 3)
During the third and final step in our enrolment process, you receive a final text message (SMS) from our enrolment (administration) team. This text message will confirm that your enrolment has been processed by our team and will list any or all emails that we have sent you.

IMPORTANT NOTE: IF YOU DO NOT RECEIVE THE EMAILS MENTIONED IN YOUR FINAL TEXT MESSAGE YOU MUST CONTACT OUR OFFICE.
VALUE ADDED ITEMS



Once you have successfully completed the requirements of this course you will receive the following items as part of your certification:
We will also add you to our register to receive FREE reminders that your CPR or First Aid certificates are about to expiry. This is a free service offered by Intelligent Training Solutions to assist you to stay up-to-date and current with your first aid certification.
TESTIMONIALS, GOOGLE REVIEWS AND RATINGS
Check out what our students and clients have to say about us, but please don't let this assortment of static images sway you, we strongly recommend checking our Google and Facebook reviews live from the Google and Facebook sites. To help you do this, we have includes the links below.
Our Google Rating and Reviews: LIVE GOOGLE REVIEWS
Our Facebook Page: ITS FACEBOOK PAGE
[wonderplugin_carousel id="11″]
OUR TRAINING VENUE LOCATIONS
Intelligent Training Solutions started life as a workplace training organisation, delivering courses directly to clients at their own locations. Today onsite course delivery remains a strength of ours when it comes to helping business, large or small, find solutions to their own compliance or employment and training needs.
Over the years we have built strong relationships with many of our local Neighbourhood Houses and their wonderful staff to deliver our nationally accredited and non-accredited courses to the local communities using the Neighbourhood Houses as a permanent training location and venue, while at the same time having an established training centre in Preston, Victoria.
In 2019, Intelligent Training Solutions Training Centre moved from Preston to Unit 7, 16a Keilor Park Drive, Keilor East, Victoria 3033 expanding both our range of courses and our capacity to deliver.
To view all the permanent training locations we use, please click on the 'Our Training Location' menu tab located in the 'GENERAL INFORMATION' menu tab at the top of this screen.
To view all the locations where we conduct this particular course, simply scroll up to the section titled 'HOW TO ENROL INTO THIS COURSE' or the section titled 'VICTORIAN COURSE FEES'
COURSE ELIGIBILITY CRITERIA



This unit of competence does not have any required eligibility criteria as stated by the HLTAID011 Unit of Competence located on www.training.gov.au
COURSE ENTRY RECOMMENDATIONS
This is an open certificate. We encourage everybody to undertake this certificate in order to learn these life-saving skills. Participants should have basic Language, Literacy and Numeracy skills and have the physical ability to perform CPR and other First Aid situations.
*Participants must be 15 years or older*
ASSESSMENT METHODS



INDUSTRY AND REGULATOR APPROVED REASONABLE ADJUSTMENTS
It is a requirement of this course, as stated by the HLTAID011 unit criteria, that the demonstration of CPR and other practical first aid components during the practical assessment must be demonstrated and performed by participants on an adult, child and infant manikin.
Due to the current COVID-19 pandemic, the following reasonable adjustment have been approved for use by our state regulators, the Australian Resuscitation Council (ARC), the Australia Industry and Skills Council (AISC) and the Department of Education, Skills and Employment (DESE). COVID-19 reasonable adjustments include:
Ensuring students do not breathe directly into a manikin, instead, the assessor must watch and assess the students performing breaths to the side of the manikin.

A no-contact approach to delivery and assessment with students and staff
On top of the reasonable adjustments issued by our regulators, Intelligent Training Solutions has also implemented the following COVID-19 safety measures as part of our delivery and assessment:
Restricted all public class sizes to accommodate the 4m2 between students and staff

Equipped our trainers with commercial-grade disinfectant to use on all classroom surfaces and contact touch points such as light switches, door handles, benchtops, classroom tables and chairs etc…

We have implemented new equipment disinfecting procedures which include sanitising and disinfecting all equipment before and after classes regardless if the equipment has been used. 

We have hand sanitiser available for use to all our staff and students. Hand sanitiser is available in all public spaces and in our classrooms.
For a full description of our COVID-19 procedures, please visit: https://www.its.vic.edu.au/coronavirus/
This course and the unit of competency that make up your Statement of Attainment must be assessed both theoretically and practically in accordance with the first aid criteria. The assessment will be based on the principles of competency-based training (CBT). A successful outcome for this certificate will be determined by a range of different methods including:
Either (one or the other) an online or written submission of work

Observation of simulated and practical activities

Structured questioning or discussions.
PLEASE NOTE: It is a requirement of this course as stated by the HLTAID003 that the practical assessment (demonstration) of CPR must be performed on an adult and infant manikin while on the floor.

TOPICS COVERED IN THIS COURSE
Even though first aid is a serious topic, we pride ourselves on our fun, practical and engaging format that simulates real worlds scenarios. Our courses contain a lot of valuable video content to ensure participants remain engaged rather than listening to war stories of trainers past experiences. Unlike many other first aid providers, all our trainers are highly qualified with our senior trainers and our program coordinator being qualified as division 1 nurses or emergency service workers and paramedics. Our standards are high to ensure that the information you receive during this course is current and practical and not just taught by a 'first aider'. We believe in providing you with highly qualified trainers that have real industry experience that is current.
There are many topics within this first aid course. For a full list of the information taught and assessed we recommend viewing the HLTAID011 Provide First Aid criteria upon which our course is based.
VIEW: HLTAID011 Unit of Competency
As a brief overview, the following list of topics is taught and assessed throughout this course. Please note, this list below is not extensive and as previously mentioned we recommend reviewing the first aid criteria using the link above should you require specific information for your compliance or workplace requirements.
TOPICS ROW 1
TOPICS ROW 2
TOPICS ROW 3
TOPICS ROW 4
TOPICS ROW 5
ROLES AND RESPONSIBILITIES

OF A FIRST AIDER

THE DRSABCD ACTION PLAN
RESPONDING TO EMERGENCY SITUATIONS
MANAGING UNCONSCIOUS CASUALTIES
CARDIOPULMONARY RESUSCITATION (CPR)
USING A DEFIBRILLATOR (AED)
LEGAL ISSUES IN FIRST AID
INFECTION CONTROL
DIABETES
HEART ATTACK
ASTHMA
ANAPHYLAXIS
WOUND AND BLEEDING MANAGEMENT
BURNS
FRACTURES AND DISLOCATIONS
SPRAINS AND STRAINS
HEAD AND FACIAL INJURIES
SPINAL INJURIES
MEDICAL EMERGENCIES
CHOKING
ABDOMINAL AND CHEST INJURIES
HEAT AND COLD INDUCED CONDITIONS
POISONING MANAGEMENT
BITES AND STINGS
STROCK
CONTINUING PROFESSIONAL DEVELOPMENT (CPD) – FOR MEDICAL PROFESSIONALS

The Royal Australian College of General Practitioners (RACGP) standards recommend undertaking a refresher in CPR competence every 3 years, however, the Australian Resuscitation Council (ARC) guidelines recommend that updates should be completed annually (www.resus.org.au).
In support of the RACGP standards and the latest evidence, it is a requirement of the QI&CPD program that GPs maintain basic life support skills through the completion of a CPR course that meets the ARC guidelines.
The CPR component of this course has been approved by the RACGP and QI&CPD Program. GPs simply submit a copy of their CPR Statement of Attainment issued by ITS Pty Ltd to the relevant State QI&CPD unit for CPD point allocation.
All nurses and midwives must meet continuing professional development (CPD) standards. Nurses on the nurses' register will need to participate in at least 20 hours of continuing nursing professional development per year. Registered nurses and midwives who hold scheduled medicines endorsements or endorsements as nurse or midwife practitioners under the National Law must complete at least 10 hours per year in education. One hour of active learning will equal one hour of CPD. The CPD must be relevant to the nurse or midwife's context of practice.
COURSE, EMPLOYMENT AND SOCIAL PATHWAYS
Participants wishing to continue with study after achieving the HLTAID011 Provide First Aid certificate can do so by undertaking the HLTAID014 Provide Advanced First Aid Certificate. This course is also suitable for those individuals entering employment or a community position whereby an individual may be required to provide a first aid response.
RECOGNITION OF PRIOR LEARNING (RPL)
Recognition of prior learning for this certificate will be offered by way of assessment only. Applicants will need to undertake both the theory and practical assessment tasks in order to be deemed competent in this course. Standard fees will apply. Further information is available by contacting our office.
ADDITIONAL ENROLMENT TERMS AND CONDITIONS
The training offered by Intelligent Training Solutions provides the skills and knowledge to properly administer first aid but does not constitute a medical qualification. Intelligent Training Solutions accepts no responsibility for the subsequent actions of participants.
First Aid training involves moderate physical activity including kneeling and bending. Intelligent Training Solutions does not accept any responsibility for any harm suffered by you as a result of your participation in the course. If you have any special needs (including those in relation to Language, Literacy or Numeracy) a relevant disability or condition, or any other concerns you should raise these prior to enrolment.
STUDENT RIGHTS



You have the right to complain about the performance of our administration services, trainers or assessors

You have the right to appeal the assessment decision made by our trainers. Please refer to our appeals policy located in the student administration section of this website.

You can view our complaints and appeals policies by visiting the student administration section of this website.
RESOURCES AND TEXTBOOKS



Intelligent Training Solutions will provide you with all the required resources and textbooks on the day of your course. Upon receiving your welcome email, after you enrol into this course, you will be provided with a link whereby you can download a free copy of the HLTAID011 Learner Guide and Personal Study Component. You are also welcome to purchase a hard copy of the student learner guide with an assessment for $26.95. For more information on purchasing a hard copy of our resources, please scroll up to the section titled 'VICTORIAN COURSE FEES'

REQUIRED EQUIPMENT



It is recommended that you provide the following:
Working pens and highlighters for use on the course.

A4 lined workbooks for taking notes (minimum 150 pages)

An active and working email account

Photo ID to confirm your identity
UPON SUCCESSFUL COMPLETION OF THIS COURSE
Once you have successfully completed this course you will be issued with a Statement of Attainment within 30 days of your final successful assessment.
PLEASE NOTE: As a general practice, Intelligent Training Solutions works towards issuing Certificates within 2 to 7 days from the successful completion of your course, HOWEVER please note, failing to provide our office with your correct USI details, failing to complete your personal study component or failure to pay your invoice on time will delay your Certificate.
If you require your certificate urgently for any reason please inform your trainer on the day of your training session so that they can attempt to make the required arrangements for you.
MEDIA, NEWS AND VIDEOS
This page was last updated January 2021
---
THIS COURSE IS

AVAILABLE FOR DELIVERY ONSITE
Onsite training is a convenient and flexible training solution for your workplace or community group.
Intelligent Training Solutions brings the training to you wherever and whenever you need it with onsite delivery available 6 days a week for 50 weeks of the year!
ENQUIRY NOW
---
OTHER COURSES OF INTEREST
[the-post-grid id="6106″ title="Accredited Courses in HLT"]