We are a Nationally Accredited Registered Training Provider working with employers and individuals to provide solutions for the current and future training needs of the Australian workforce.
VIEW OUR DRIVING INSTRUCTION COURSE. – FULL-TIME, PART-TIME OR BLENDED DELIVERY COURSE AVAILABLE. – NOW DELIVERING IN NSW, ACT, VIC & SA
Join the course that is delivered by Health Care Professionals excited to share their knowledge and experiences with you! A focus on quality content, delivered in an enjoyable & entertaining environment, this course will provide you with the skills, knowledge and CONFIDENCE to assist someone when it counts!
PUBLIC & CORPORATE DEFENSIVE DRIVER COURSES
Perfect for your next drive experience – A cutting-edge driving facility located in Altona, Victoria. Only 25-minute drive from the city!
GET QUALIFIED TO TEST AND TAG FIRE EXTINGUISHERS – SUITABLE FOR WORKPLACES AND THOSE WANTING TO START A NEW CAREER
This Emergency Response Coordinator (ERC) course is endorsed by the Australian Football League (AFL) and targets junior, suburban and country football clubs, teams and volunteers that may not have a qualified Level 1 sports trainer available to attend games, training and practices sessions. This course builds a club or teams capacity to meet the minimum requirements of the Australian Football League Management of Injuries and Medical Emergencies in Community Australia Football Policy.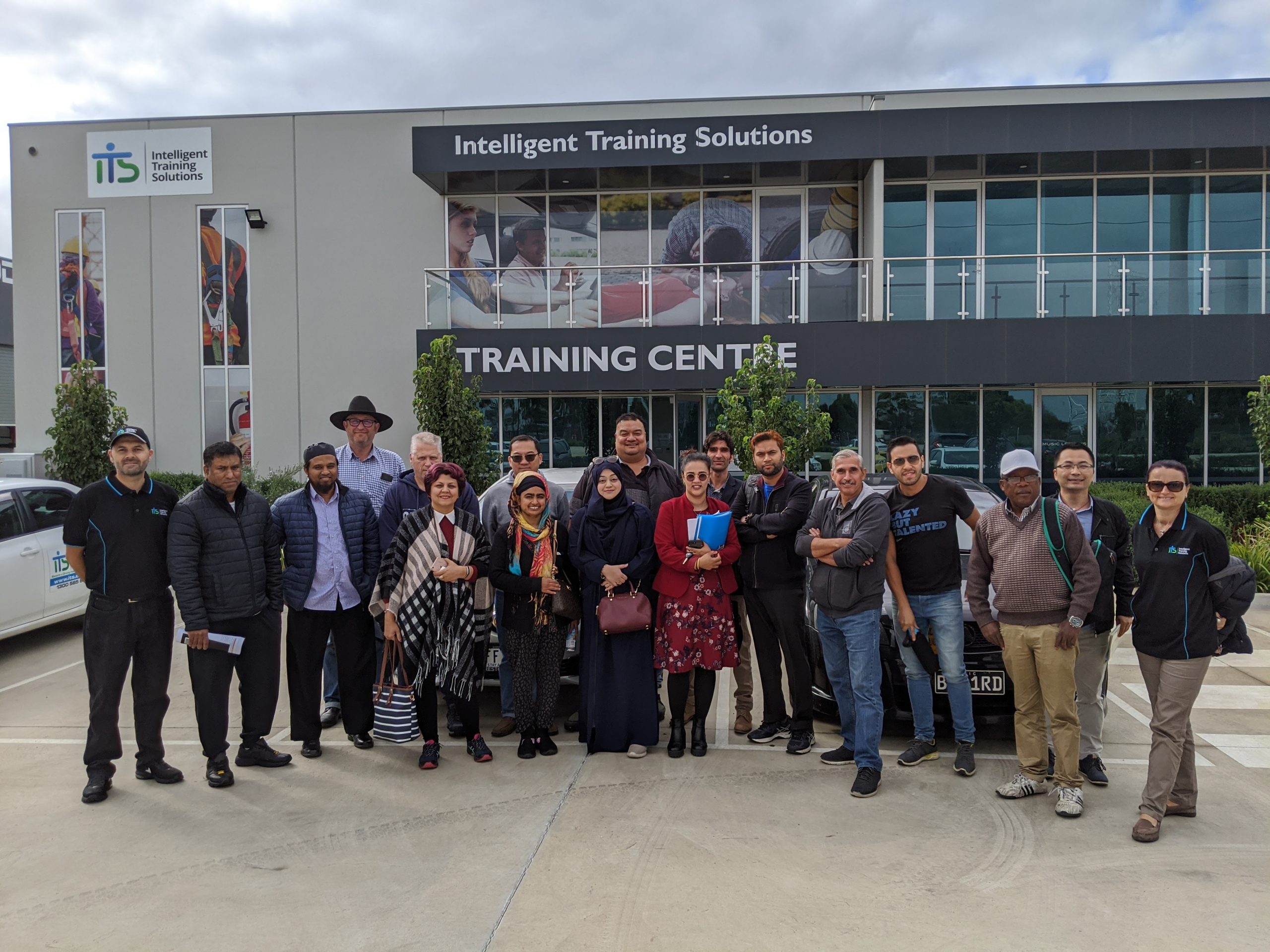 Welcome to Intelligent Training Solutions, Your Premier Registered Training Provider!
Why choose us, you may ask? At Intelligent Training Solutions, we take pride in being an industry-leading Registered Training Provider (RTO), specialising in a broad spectrum of training programs spanning Transport and Logistics, Health, Training and Education, Business Management, Building and Construction, Property Services, and the renowned Test and Tag courses.
Our mission is simple – deliver successful training outcomes that add value to all our clients, be they individuals or businesses. As a dynamic enterprise, we stand committed to working closely with employers and individuals to cater to both current and future training needs and workforce expectations.
Our specialty lies in crafting, developing, and delivering tailor-made training solutions to meet the unique needs of individuals, businesses, large corporations, government agencies, professional associations, and industry groups. Our expertise extends to both nationally accredited and non-accredited training programs, always delivered with a strong emphasis on flexibility, support, and quality outcomes.
We are particularly renowned for our advanced driver training, comprehensive test and tag, and rigorous first aid courses, each designed with meticulous attention to detail, professional instruction, and comprehensive training material.
Interested in exploring suitable courses for you or your business? Reach out to us today and let us guide you on a journey towards success.
Remember, "Success is always a by-product of quality training with successful individuals!" Here at Intelligent Training Solutions, we build success, one course at a time. Welcome aboard!
Intelligent Training Solutions, operating since 2001
(Previously Drive National Training)
STUDENTS ENROLLED SINCE 2001
ACCREDITED COURSES DELIVERED
NON-ACCREDITED COURSES DELIVERED
NUMBER OF TRAINING VENUES
* Intelligent Training Solutions, previously Drive National Training, has delivered courses for Kangan Batman Tafe, Northern Melbourne Institute of TAFE (Melbourne Polytechnic) and other private RTOs since 1998. Intelligent Training Solutions was first registered as an independent RTO (RTO: 22570) in 2011. – This section was last updated in August 2023
LIVE TESTIMONIES FROM GOOGLE
We strongly recommend checking out the reviews past students have left us on Google. We believe that live reviews and ratings speak volumes compared to the static snippets of favourable reviews most other training providers put on their websites. Below is a live feed from our Google reviews. This is an unfiltered feed. The reviews listed below are from students of every course we deliver. If you wish to find a specific review on a course you are interested in, you may need to look through the list. 🙂